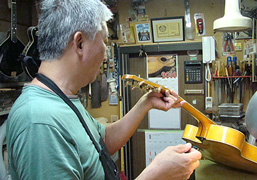 Luethier, Takeshi Iwamoto.
He was born in 1949.
He begins musical instrument production in 1978.
He establishes Acoustic World company in 1981.
He grinds flat mandolin, guitar, Dobro, banjo, violin, other production, and repair.
Artists of the world play his musical instrument.
There is his studio in Suginami-ku of Tokyo.
Spec
Body size:
16 inches
Body depth:
2.5 inches
Scale length:
23.5 inches
Top:
Solide German Red Spruce
Side & Back:
Solid BIg Leaf Maple
Fingerboard:
Solid Black Ebony
Tail piece & Pick guard:
Jacaranda
Neck:
Maple & Ebony three-ply
Pickup:
Kent Armstrong
Machine Heads:
Grover Super Rotomatics 109G
Price: 800.000JPY